Discover how the exquisite Samsung Bespoke Jet premium with all-in-one-clean station redefines home cleaning
Blending a premium design with powerful performance, the new Samsung Bespoke JetTM premium cord-free vacuum cleaners that have just been released in Malaysia are part of their expanding range of premium Bespoke appliances and is an aesthetically pleasing addition to any home capable of offering a hygienic cleaning experience from start to finish.
Designed to address the traditional pain points of a vacuum cleaner, the Samsung Bespoke JetTM premium sets new standards for home appliances, featuring a powerful Digital Inverter Motor for superior suction performance paired with an innovative cord-free design with up to 60 minutes of usage1 on its built-in battery to clean almost any part of your home. 
This is combined with a hygienic system that ensures collected dust is hygienically and safely disposed of in an All-in-One Cleaning StationTM dock. There's more than meets the eye with the Samsung Bespoke JetTM premium. Here's why you need to experience the effortlessly superior deep clean of Samsung Bespoke Jet premium cordless vacuum now
Samsung Bespoke Jet

TM

premium – Use it, empty it and charge it effortlessly!
Cleaning conventional vacuum cleaners is often a challenge for those sensitive to dust. Typically, captured dust is deposited into an integrated dust bin but the problem here is when users open the bin for disposal. Doing this causes all that captured dust and dirt to fly around in the air again which is perilous for those with asthma or other allergies.
With the Samsung Bespoke JetTM premium, you can literally breathe easier. It contains a complete dust containment and disposal system from start to finish. When in use, dust is collected in a compact 0.5L dustbin within the vacuum itself.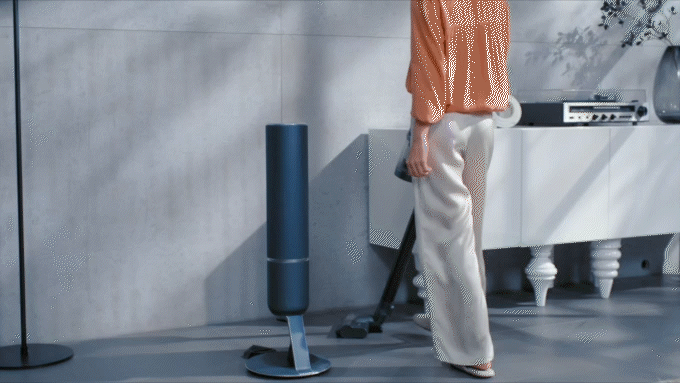 When you're done and dock the Samsung Bespoke JetTM premium into its All-in-one Clean StationTM for charging, it automatically2 empties debris from the dust bin using 'Air Pulse' technology into a sealed dust bag integrated into the Clean Station itself for easy disposal. This hands-free method ensures that dust doesn't go flying about when you throw it away and the dust bags are easily replaceable too. No dust, no fuss!
Samsung Bespoke JetTM premium – Powerful Digital Inverter Motor and Multi-Cyclone For Thorough Cleaning Performance 
Malaysia's balmy weather conditions combined with the variety of surfaces in the average home like hard floors, soft carpets as well as less ventured areas like the tops of cabinets and the undersides of furniture tends to make dust accumulate in droves. This naturally makes cleaning a challenge. Fortunately, the Samsung Bespoke JetTM premium is up to the task as it combines the latest innovations in cleaning technology to ensure effective, thorough cleaning performance.
Powering the Samsung Bespoke JetTM premium is a powerful Digital Inverter Motor capable of spinning at up to 135,000rpm and generating up to 210W3 of suction power to clean multiple surfaces with maximum suction power. Complementing the Digital Inverter Motor is a sophisticated multi-cyclonic design that optimises airflow while a sophisticated air filtration system helps to capture fine dust particles for later disposal.
That's not all, the Samsung Bespoke JetTM premium hosts a variety of effective attachments to handle any cleaning challenge such as the extendable telescopic pipe to handle high surfaces, the extension crevice tool to handle tight corners, a pet tool for handling pet hair and a combination tool to handle general tasks.
Not only is the Samsung Bespoke JetTM premium extremely light, weighing at just 1.44kg , it's also portable as well as its powerful battery and cord-free design allows for up to an hour4 of powerful effective cleaning anywhere in the house rather than having to be tethered to a charging point. Once you're done, you can simply dock it back into the All-In-One Clean StationTM to recharge and dispose of all of your accumulated dust.
Samsung Bespoke JetTM premium – Advanced 5-Step Filtration System for Powerful, Thorough Cleaning 
To ensure powerful and efficient cleaning from start to finish, the Samsung Bespoke Jet premium implements a multi-cyclonic air filtration system that maximises suction power, allowing it to capture up to 99.999%5 of fine particles, pet hair, pollen and other allergens6. The main cyclone and mesh grille filter traps larger dust particles, while the jet cyclone and micro filter then captures fine dust while a fine dust filter prevents the emission of micro-dust7 into the air.
In fact, the Samsung Bespoke JetTM premium has received the Allergy UK Seal of Approval by the British Allergy Foundation (BAF) as a testament to its ability to effectively capture such fine dust particles.
In order to capture such tiny motes of dust, the Samsung Bespoke Jet premium integrates a sophisticated 5-step filtration system that uses an increasingly finer series of filters to capture these tiny particles, sealing them into an integrated 0.5L dustbin for later disposal while releasing clean air. 
Where to purchase the Samsung Bespoke JetTM premium in Malaysia
The Samsung Bespoke JetTM premium cordless vacuum cleaner is available nationwide in Malaysia with your choice of a beguilingly posh shade of Midnight Blue, an elegant Misty White and an enthralling shade of Woody Green8. At present, consumers in Malaysia will be able to purchase the Bespoke JetTM premium in Midnight Blue.
At a recommended retail price of  RM3,899, the Samsung Bespoke JetTM premium comes with everything you need to offer a deep, effective clean around your home that include the All-in-one Clean Station , the Slim Action brush attachment, Spray Spinning Sweeper attachment and more. 
For a limited time only until 30th April 2022, buyers of the new Samsung Bespoke JetTM premium will also receive the Galaxy Buds Live wireless earbuds worth RM5499 absolutely free. In Malaysia, the Samsung Bespoke Jet premium can be purchased at the official Samsung Online store and at all authorised dealers nationwide.
1 The stated run time applies to the minimum power level with a non-motorized tool attached. Results may vary depending on actual usage.
2 Results may vary depending on individual use. Dust and hair stuck inside the grille may not be removed with a single cycle.
3 Suction tested based on the IEC62885-2 Cl. 5.8 standard, tested at the inlet of the non-motorized tool, using Jet mode. Based on SLG Prüf- und Zertifizierungs GmbH tests.
4 The stated run time applies to the minimum power level with a non-motorized tool attached. Results may vary depending on actual usage.
5 Tested based on IEC 62885-2, CL.5.11 using the Jet mode by SLG Prüf- und Zertifizierungs GmbH. Results may vary depending on actual usage.
6 Based on the Allergy UK Seal of Approval by BAF (British Allergy Foundation)
7 Refers to dust particles in the size range of 0.5 to 4.2µm
8 Colour availability varies by region
9 Terms and conditions apply